Coronary band 'jamming'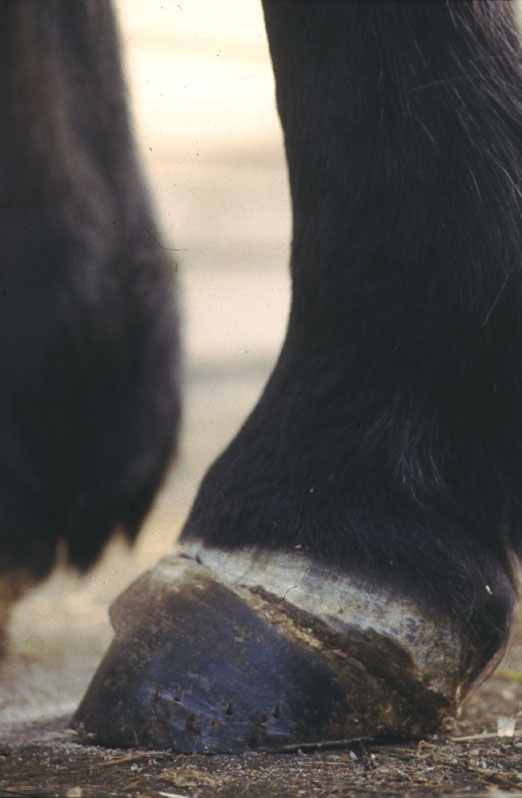 Jamming is a term given to a condition where hoof growth at the coronary band is halted or grows very slowly in one area. The commonest part to become jammed is the dorsal coronary band at the toe, but sometimes jamming can occur on one side of the coronary band, this is usually the medial or inside branch and is often seen in the larger horses with laminitis often with an asymmetric hoof shape.
This type of horn growth is different from the pattern seen in many cases of laminitis where all areas of the coronary band are growing horn but the heel area is growing even faster. With jamming there is a definite reduction in horn growth in one area.
When a coronary band first starts to jam, there are no obvious signs but it is very painful to the horse. The most likeliest explanation for jamming is hoof capsule distortion placing pressure onto the tissue which grows the hoof wall, called the coronary corium. This pressure inhibits the production of horn in the affected part of the coronary band, causing the hoof capsule to distort mostly in a lateral to medial direction.
The combination of both dorsal - palmer and lateral - medial distortion is devastating to the hoof.
The severe pain caused by jamming is often misinterpreted as being purely a worsening of the laminitic condition.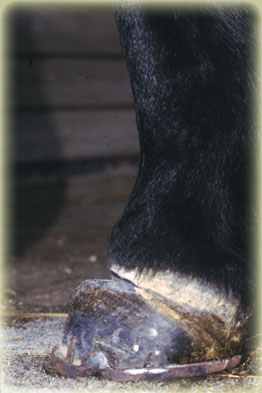 Coronary grooving is the accepted method of relieving pressure on the coronary corium (Ritmeester et al 1998). A deep horizontal groove is made just below the hair line (Fig. 2), thinning the hoof wall through to its inner border, thus allowing the hoof wall to re-grow.
In horses that have been treated early with vertical grooving, the incidence of jamming seems to have been reduced.
Reference
Ritmeester A M, Blevins W E, Ferguson D W & Adams S B (1998) Digital perfusion, evaluated scintigraphically, and hoof wall growth in horses with chronic laminitis treated with egg bar heart bar shoeing and coronary grooving. Equine Vet. J. Suppl. 26. (1998)
Medial Jamming
Medial jamming is not obvious at the time but becomes visible after a period of time. Vertical grooving should help reduce the effects of hoof capsule distortion onto the medial (inside) coronary band.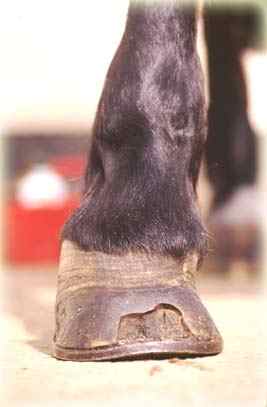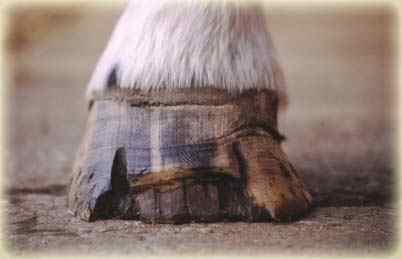 Updated: 08/06/2013